About Adam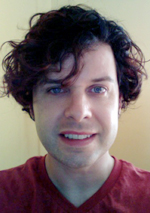 Adam lives in small Victorian village named Potsdam in upstate NY. He teaches high school art and adjuncts local universities. He bought a house six years ago that was built in 1812 of Potsdam sandstone. For the past six years he has been working on remodeling (or in some cases un-remodeling) the 5-bedroom, 2-bathroom, 2-story home with help of various friends (such as Anna), family, and his Rat Terrier, Chloe. He's trying to keep the décor fitting with the history of the house without it being too traditional or stuffy. Adam has known Anna from Door Sixteen for over ten years and is a big fan! He's proud to say he has actually been at Door Sixteen, too!

About Anna
Anna is Adam's friend. She lives about 300 miles away from him in Newburgh, New York, where she's been busy renovating her own old house for the past five years with her husband, Evan. She blogs about it over at Door Sixteen. Anna started this blog for Adam a few years ago as a way to help him work through the often-overwhelming process of figuring out how to make a house into a home. Sometimes she posts here so she can share ideas with Adam that she thinks could work in his house.
Anna is writing about herself in the third person right now, and it's freaking her out.